Two years ago, I moved to Salt Lake City for work. After looking around a bit for a rental property close to my new work, it became clear that I would be better off trying to buy a new home than renting if I could afford to do so. At the time the interest rates and property values in Salt Lake City were very low, so monthly mortgage payments were often cheaper than rental prices.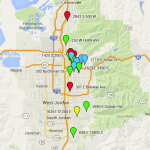 Sitting at the Salt Lake Roasting Company after we first moved here, we found a really nice real estate agent (Jaral Ferwerda).  I worked with him diligently to find a home while my lovely wife was buttoning up our home in California.
After a while, I started to find it very difficult to keep track of all the homes I was seeing. They started to blur together, and I wasn't really able to figure out which one I liked best.